Rap superstar Eminem has launched another fierce attack on Donald Trump at an awards ceremony, accusing him of being a racist, a "kamikaze" and of having an "orange… sick tan".
The top-selling artist savaged the US President in an explosive pre-recorded, expletive-laden freestyle, titled The Storm, which was aired at the BET Hip Hop Awards on Tuesday.
In the four-minute video, the controversial musician breaks into the rap while dressed all in black, including a hoodie, in a muliti-storey car park.
With an entourage standing behind him, he angrily sings: "Racism's the only thing he's fanstastic for."
He accuses Mr Trump of escalating tensions with North Korea through his Twitter war of words with the reclusive state's dictator, Kim Jong Un: "We better give Obama props 'cause what we got in office now's a kamikaze that'll probably cause a nuclear holocaust."
The rapper also wades into the President's row with NFL players who have been kneeling down during the national anthem as a form of protest at police violence against African Americans.
He says "instead of talking Puerto Rico or gun reform for Nevada", alluding to the hurricane-ravaged US territory and last week's Las Vegas shooting, the President chooses to "focus" on the American football saga because "he gets an enormous reaction when he attacks the NFL".
"All these horrible tragedies and he's bored and would rather Cause a Twitter storm with the Packers," Eminem raps.
"Now if you're a black athlete you're a spoiled little brat for trying to use your platform or stature to try to give those a voice who don't have one."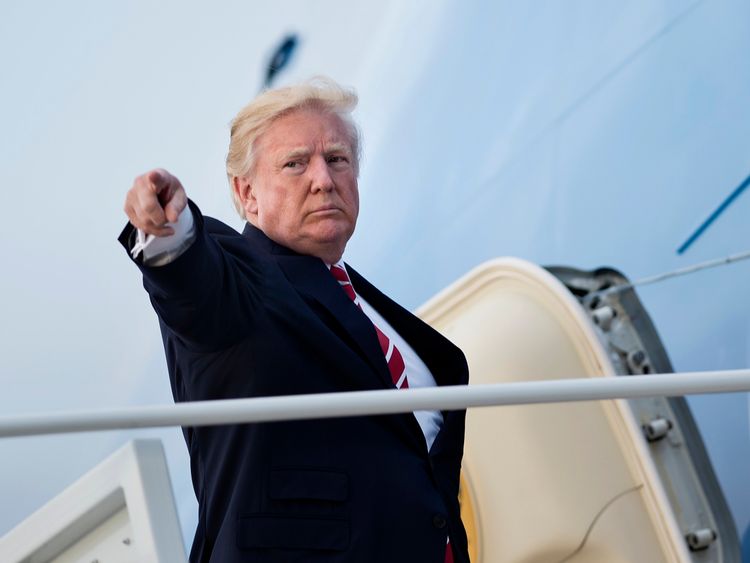 He also pledges solidarity with former San Francisco 49ers quarterback Colin Kaepernick, who was the first player to sit down for the anthem before a game in August 2016.
The sportsman responded to the rap, tweeting: "I appreciate you @Eminem."
Eminem, whose real name is Marshall Mathers, hinted in a tweet before the awards that something unexpected might happen.
The 44-year-old ends the video by demanding that his fans forswear Mr Trump: "Any fan of mine who's a supporter of his, I'm drawing in the sand a line, you're either for or against.
"We f****** hate Trump," he yells.
Known for his graphic lyrics and aggressive style, Eminem has rarely been overtly political in the past.
However, it is not the first time he has voiced his loathing of Mr Trump.
His latest tirade comes almost a year since the rapper released his politically charged single, Campaign Speech, which featured a loaded lyrical attack on the then Republican presidential nominee.