Pope Francis has met film director Martin Scorsese at a special screening in Rome of the Oscar winner's new film, Silence.
The film, about Jesuit missionaries in 17th century Japan where Christianity was banned at the time, has a special poignancy for both men.    
Scorsese, 74, spent a year in a "minor seminary", a high school for boys considering the priesthood, while the 79-year-old head of the Roman Catholic Church is a member of the Jesuit order.
As a young man, he wanted to go to Japan as a missionary but was refused permission because of his ill health.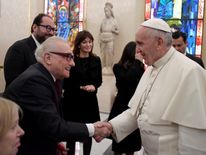 The pair meet in the Vatican's Apostolic Palace, where the pontiff told Scorsese he had read the 1966 novel by Shusaku Endo – who converted to Catholicism – on which the film was based. 
The film is about two Portuguese Jesuit missionaries who travel to Japan to search for their missing mentor, who is 
rumoured to have renounced the faith under torture.
The missionaries learn they can save themselves and Japanese converts from death by crucifixion, burning and drowning if they trample an image of Jesus known as the "fumie" to show they renounced their religion.
Many Christians continued to observe their faith secretly and Scorsese gave the Pope a painting by a 17th century Japanese artist of a Madonna that was venerated by these so-called "hidden Christians".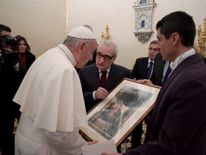 Father James Martin, a Jesuit consultant for the script, said Scorsese stayed for an hour after Tuesday's screening to answer questions from an audience of Jesuits.
He said: "He was very engaged and energetic and really impressed the Jesuits in the audience with the depth of his spirituality.
"You could not make a spiritual film like that without being a spiritual person. It would come off as empty."
The meeting between Pope and film director came almost 30 years after his film, The Last Temptation of Christ, caused uproar because of a dream scene in which Jesus marries and has sex with Mary Magdalene.  
But many Catholics also defended Scorsese, whose work also includes Raging Bull and Taxi Driver – famous for its "Are you talkin' to me?" scene with Robert De Niro.
Father James said: "The Last Temptation Of Christ was not about Jesus renouncing the faith but about being tempted, and that is part of his humanity."