British banker Rurik Jutting was a narcissistic sexual sadist who had been abused at school, his double murder trial has been told.
Opening the case for the defence at the High Court in Hong Kong, his legal team called British forensic psychiatrist Richard Latham to the witness box.
Jutting suffered from personality disorders of sexual sadism and narcissism, as well as recognised disorders from cocaine and alcohol abuse, Dr Latham told the court.
The 31-year-old Cambridge graduate is accused of murdering two Indonesian women, whose mutilated bodies were found in his apartment in November 2014.
Mobile phone footage showing Jutting raping and torturing his first victim over the course of three days, and discussing his plans to kill the second, was played to the jury last week.
"The thing I never had before in a case is the video recordings he made himself because they give you a direct view of what he was like around the time of these two killings," Dr Latham said.
He went on: "At the time of the killings his ability to control his behaviour was substantially impaired."
Dr Latham said: "There is this very fragile sense of self-esteem underneath it all."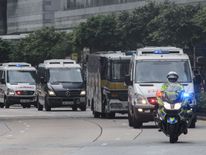 He said Jutting had told him he was abused as a teenager at renowned English private school Winchester College.
The court heard a boy had forced Jutting to perform oral sex on him at school.
"He described it in a way that he was a victim of sexual assault," Dr Latham said.
In the series of monologues, entitled the "narcissistic ramblings of Rurik Jutting", the banker discussed the murders, binged on cocaine and explained his violent sexual fantasies.
In police interviews also screened in court, Jutting said he was consuming 10 packs of cocaine – costing the equivalent of more than £1,000-a-day – and up to 20g of cocaine just before the second killing.
The defence and prosecution are largely in agreement over the physical evidence, but dispute the psychiatric and psychological evidence, and the degree to which Jutting can be held culpable for his actions.
Murder carries a mandatory life sentence in Hong Kong, while manslaughter carries a maximum of life imprisonment with the option of a shorter sentence.
The former securities trader watched attentively from the dock during the session, dressed in a pale blue shirt, clean shaven and with short cut hair.
  
He appeared markedly thinner than at his initial court appearances, where he looked overweight and wore a thick dark beard.
Jutting admits killing the women – Sumarti Ningsih, 23, and Seneng Mujiasih, 26 – but he denies murder on the grounds of diminished responsibility.
The trial continues.