Top Democrats have demanded the FBI release "more detailed information" about its new investigation into Hillary Clinton's use of private emails.
Senators Thomas Carper, Patrick Leahy, Dianne Feinstein and Benjamin Cardin have written a letter to the agency's director, James Comey, and given him a deadline of Monday to respond.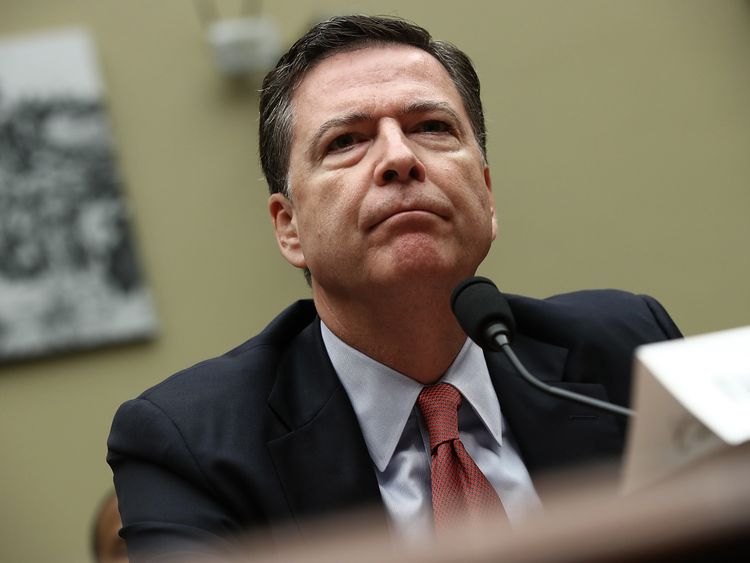 The pressure on Mr Comey has intensified after he wrote in a letter made public on Friday that the bureau would examine whether newly discovered emails contained sensitive government information.
:: Charge of partisanship is dangerous for FBI
The senators said: "This letter is troubling because it is vaguely worded and leaves so many questions unanswered.
"It is not clear whether the emails identified by the FBI are even in the custody of the FBI, whether any of the emails have already been reviewed, whether Secretary Clinton sent or received them, or whether they even have any significance to the FBI's previous investigation.
"The letter is also troubling because it breaks with the long-standing tradition of Department of Justice and the FBI exercising extreme caution in the days leading up to an election, so as not to unfairly influence the results."
In their letter they refer to an internal memo reportedly sent on Saturday by Mr Comey to FBI staff in which he stated that given the Bureau does not know the significance of this newly discovered collection of emails, "I don't want to create a misleading impression".
The senators argued: "Unfortunately, Director Comey's letter has been misunderstood. It is already being used for political purposes, creating a misleading impression regarding the FBI's intent and actions."
:: Clinton emails: Timeline of how scandal unfolded
They added: "Just 10 days before a presidential election, the American people deserve more disclosure without delay regarding the FBI's most recent announcement.
"Anything less would be irresponsible and a disservice to the American people."
It has also been reported FBI agents have not been able to review any of the material because the Bureau has not yet obtained a search warrant to read them.
Matthew Miller, a former chief spokesman for the US Department of Justice accused Mr Comey of making a "huge blunder" in his handling of the probe.
Mrs Clinton herself has called on Mr Comey to put out the "full and complete facts" about the fresh FBI review.
:: Clinton 'confident' over new FBI emails probe
The Democratic presidential nominee stepped up her attack on Saturday night, describing Mr Comey's decision as "deeply troubling".
In a rallying cry against her opponent at an election event in Miami, where singer Jennifer Lopez provided some celebrity firepower for the Clinton campaign, Mrs Clinton said: "It might be a little easy to forget that with all the fun, and the excitement and the joy that you saw up on this stage today – Donald Trump is out there stoking fear.
"Disgracing our democracy and insulting one group of Americans after another.
"Well let me ask you this: Are we gonna let Donald Trump get away with that?
"You're right – we're not. And we believe in a different kind of change where we come together, we grow together, because you know what? We are stronger together."
The messages were discovered after the FBI seized four electronic devices belonging to Mrs Clinton's aide Huma Abedin and her husband Anthony Weiner, the New York Times reported.
:: Donald Trump still worried despite FBI probe 
They were taken during an investigation into illicit text messages between the former Congressman and a 15-year-old girl.
An unnamed US official told the Associated Press the new emails did not come from Mrs Clinton's private server.
News of the fresh FBI probe prompted a gleeful response from Mrs Clinton's Republican rival, who told his supporters the development is "bigger than Watergate".
At a rally in New Hampshire, Mr Trump said: "Hillary Clinton's corruption is on a scale we have never seen. We must not let her take her criminal scheme into the Oval Office."
:: Watch America Decides, a special programme on the US election at midnight on Monday.