Footage filmed for Sky News shows the aftermath of an artillery strike in Aleppo in which at least 20 people, including children, were killed.
A number of victims could be seen lying in the street, some with bloodied faces, following the attack in the rebel-controlled neighbourhood of Jibb al Quebeh on Tuesday.
Also in the footage, a young child stood traumatised next the body of a man.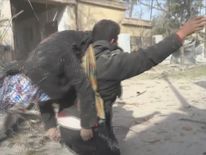 The group of civilians had been fleeing fighting in the besieged Syrian city.
A man was seen carrying an injured woman on his shoulders as he desperately ran towards an ambulance.
The injured were then helped into the vehicle amid the sound of shouting and screaming.
The footage was filmed by a cameraman who arrived by motorbike on the scene soon after the deadly strike and joined in the rescue effort to help people who were trapped by debris.
It comes as an estimated 20,000 people have been forced to flee eastern Aleppo in recent days following significant ground advances by Syrian government forces against rebels.
Opposition forces lost a third of their territory in eastern Aleppo, according to the UK-based Syrian Observatory for Human Rights, which called it their "worst defeat since they seized half the city in 2012".
The Syrian army and its allies are aiming to capture all of rebel-held eastern Aleppo by the time President-elect Donald Trump takes office in January.
Forces loyal to Syrian President Bashar Assad took the Sakhour, Haydariya and Sheikh Khodr neighbourhoods on Monday, while Kurdish forces captured the Sheikh Fares district.
Kurdish forces are not officially allied with the regime, but rebels regard them as co-operating with the government. Shia militias from Iran, Iraq and Lebanon are also fighting in support of President Assad.
:: Aleppo: Death of a city
Some desperate residents fleeing the fighting have moved to government and Kurdish-controlled areas, while others have gone to other rebel neighbourhoods.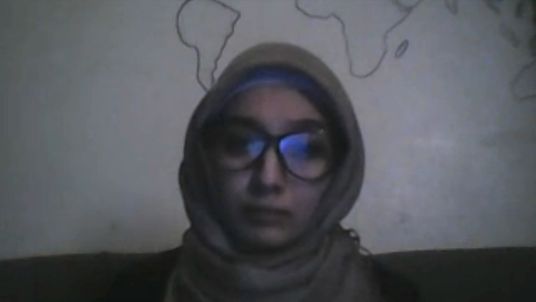 Experts believe the capture of the Sakhour district could cut the area held by the opposition in two and that it is just a matter of time before all of eastern Aleppo is captured.
France has called for an "immediate" UN Security Council meeting over the "humanitarian disaster" in the city.
"More than ever, there is an urgent need for a cessation of hostilities and unhindered access to humanitarian assistance," said foreign minister Jean-Marc Ayrault.
::Aleppo under siege – a timeline
UN humanitarian chief Stephen O'Brien has called the situation "deeply alarming and chilling" and warned that thousands more could be forced to flee.