People were pulled injured from the rubble in towns across central Italy after buildings collapsed when a 6.6 magnitude earthquake hit "like a bomb".
The earthquake struck at the heart of a region already struggling to rebuild after being devastated by a series of quakes, including one in August that left 298 people dead and two massive tremors four days ago. 
Buildings weakened by those seismic shocks finally collapsed when the quake hit at 7.40am local time on Sunday.
Injured people were pulled from the rubble in a number of towns, but so far no deaths have been reported.
The magnitude was recorded at 6.6, with a depth of 10km, and if that stands, it would make it the most powerful earthquake to hit the country in 36 years.
In the town of Norcia, near Perugia, in the region of Umbria, nuns and monks fled into the street as a cathedral and a church, which had been left standing after the recent earthquakes, crumbled.
They joined residents to pray in the town square where a firefighter appealed to the priest to keep panicking residents calm, saying: "We have to keep people calm. Prayer can help. I don't want people to go searching for family members."
The Monks of Norcia said the 14th century Basilica of St Benedict had been "flattened" in the quake. Some knelt in the rubble of the landmark, which attracts 50,000 pilgrims each year, deeply upset by the loss of the building they tended.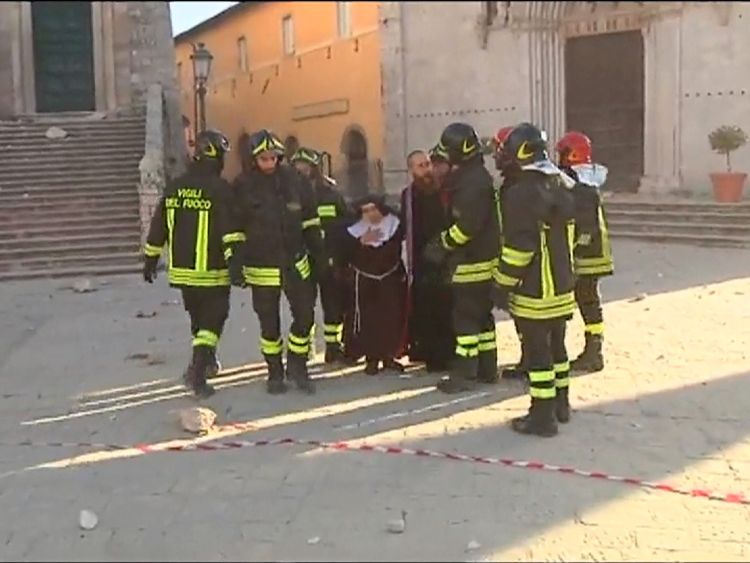 St Mary Argentea church, known for its 15th century frescoes, and the town's ancient walls were also seriously damaged. The town hall clock tower appeared perilously close to collapse.
Norcia city assessor Giuseppina Perla said: "It's as if the whole city fell down."
The town's deputy mayor, Pierluigi Altavilla said: "It was like a bomb went off. We are starting to despair. There are too many quakes now, we can't bear it any more."
Italian Prime Minister Matteo Renzi pledged to rebuild all of the homes and churches destroyed by the latest earthquake.
He said: "We will rebuild everything: the houses, the churches and the businesses. Everything that needs to be done to rebuild these areas will be done."
Priests have been told not to hold masses in churches in the region because of the risk and have been advised to hold All Saints Day celebrations outdoors in village towns and squares.
In Cascia, 13 miles south of Norcia, a hospital was being evacuated and children in some towns were being told schools would not open on Monday.
Aleandro Petrucci, the mayor of Arquata del Tronto, another of the towns battered by the series of quakes, declared: "There are no towns left. Everything's come down."
Even in Rome, more than 100 miles away, cracks appeared in buildings and the underground train network was shut for structural checks.
Around 1,300 residents in towns in the Umbria and Marche regions had already fled to the coast after being struck four days ago by a 6.1 magnitude and 5.5 magnitude earthquake.
Those who had not left had been sleeping in their cars. One of them was the Mayor of Ussita, Marco Rinaldi. He said: "Everything collapsed. I can see columns of smoke, it's a disaster, a disaster.
"I was sleeping in my car. I saw hell break out."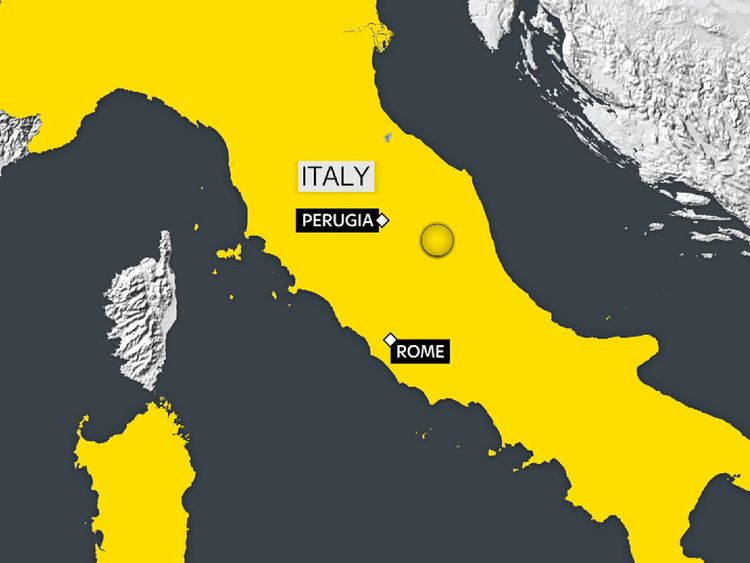 Rescuers confirmed that a handful of farmers and elderly people who had refused to leave the small village of Casali after last week's strikes had been found and they were considering forcing them to move out.
Italy's emergency services said there was serious damage across towns and villages in the regions of Marche and Umbria.
Civil Protection chief Fabrizio Curcio said: "We know of about ten injured persons, but they are slightly injured, except for a person who is in a more severe condition."
The US Geological Service measures the earthquake at 6.6 with its epicentre three miles north of Norcia.
It was so strong it was felt in the Austrian city of Salzburg, and as far south as the Puglia region at the tip of the Italian peninsula.
More follows…