Residents in Puerto Rico are picking up the pieces after their homes were pummelled by Hurricane Maria, which is now lashing the Dominican Republic.
A curfew was imposed across Puerto Rico after 155mph winds ripped off roofs and brought down balconies and power lines, plunging the entire US territory of 3.5 million people into darkness.
It is the strongest storm to hit the Caribbean island since 1932.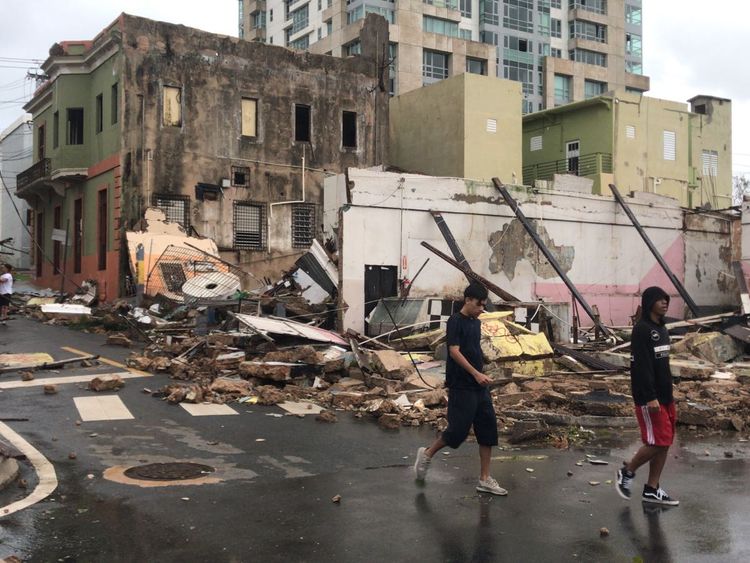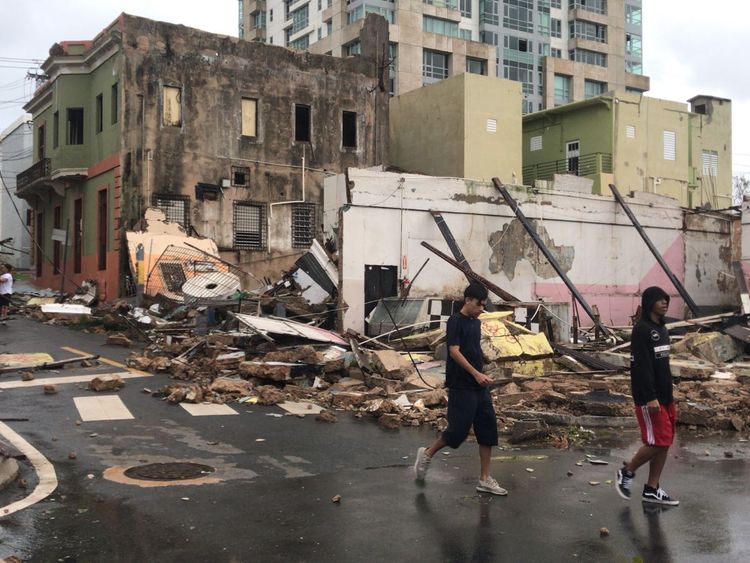 Sky's Mark Austin, who was able to drive around the island as the storm began to move away, found trees and masts down across the country.
He said: "We saw buildings collapsed with looters taking what they could from damaged shops, and petrol stations destroyed."
There is serious flooding in the southeast of the island, close to where the storm made landfall, and many homes and other structures are thought to have been badly damaged.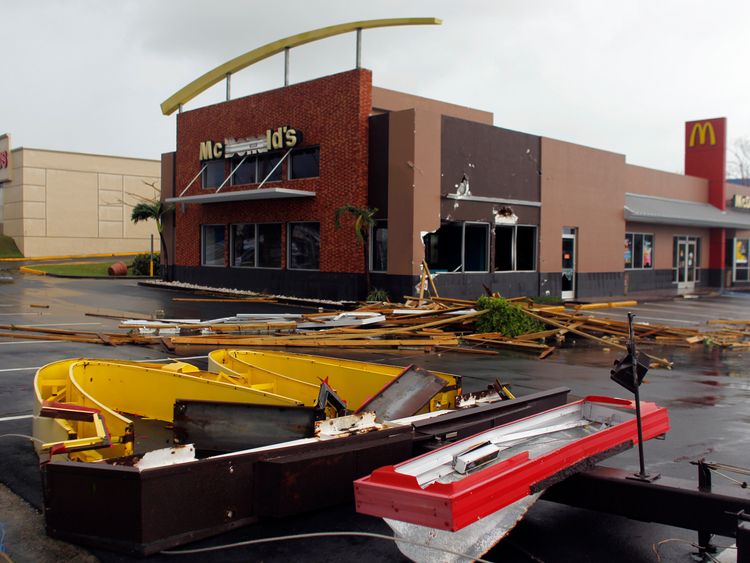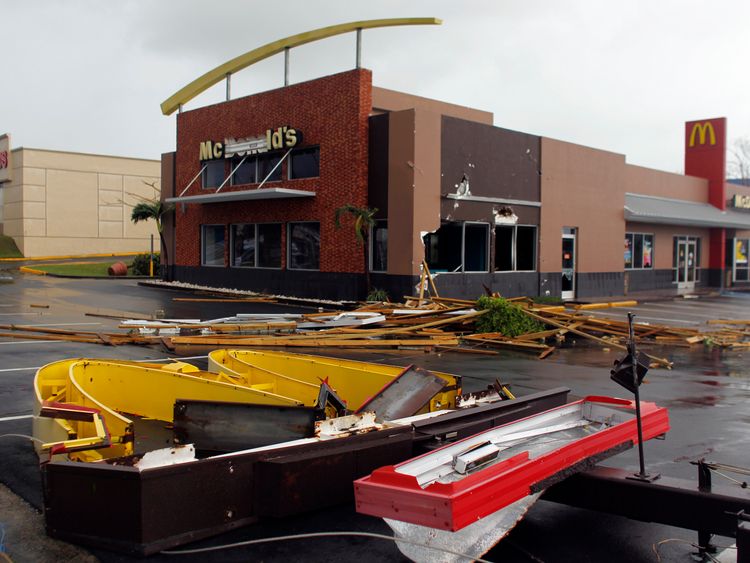 It could be many weeks before some properties have power again.
There were reports of windows being blown out at some hospitals and police stations and a man was reported to have died after being hit by a flying piece of timber.
Felix Delgado, mayor of the northern coastal city of Catano, said: "Months and months and months and months are going to pass before we can recover from this."
Orient Bay, St. Martin after it was hit by Hurricane Maria

Members of the military help remove damaged boats in Orient Bay, St. Martin

A man tries to salvage a table belonging to his restaurant in Punta Cana, Dominican Republic

Dominica

Damage caused by Hurricane Maria in Roseau, Dominica

Puerto de Jobos, Puerto Rico

Damaged electrical installations in Guayama, Puerto Rico

A damaged banana plantation in Guayama, Puerto Rico

Puerto Rico

Puerto Rico

USS Kearsarge motors at top speed towards islands impacted by Hurricane Maria, in the Caribbean Sea

A man looks for valuables in the damaged house of a relative in Guayama, Puerto Rico

Punta Cana, Dominican Republic

A damaged pier in Puerto de Jobos, Puerto Rico

A destroyed supermarket in Guayama, Puerto Rico

Guayama, Puerto Rico

Rescue workers help people in Guayama, Puerto Rico

Guadeloupe

Martinique

Guadeloupe

Martinique
/
The island's governor, Ricardo Rossello said: "It's nothing short of a major disaster."
US President Donald Trump tweeted: "Puerto Rico being hit hard by new monster Hurricane. Be careful, our hearts are with you – will be there to help!"
Maria is the second severe storm to smash into the Caribbean in a fortnight, after Hurricane Irma left widespread damage across the Leeward Islands, many of which are British overseas territories and Commonwealth countries.
The US Hurricane Centre reupgraded Maria to a severe category three hurricane on Thursday morning, as it approached the northeast coast of the Dominican Republic.
The storm is moving northwest and is expected to strengthen as it heads toward the Turks and Caicos Islands, another British overseas territory, and the southeastern Bahamas on Thursday night and into Friday.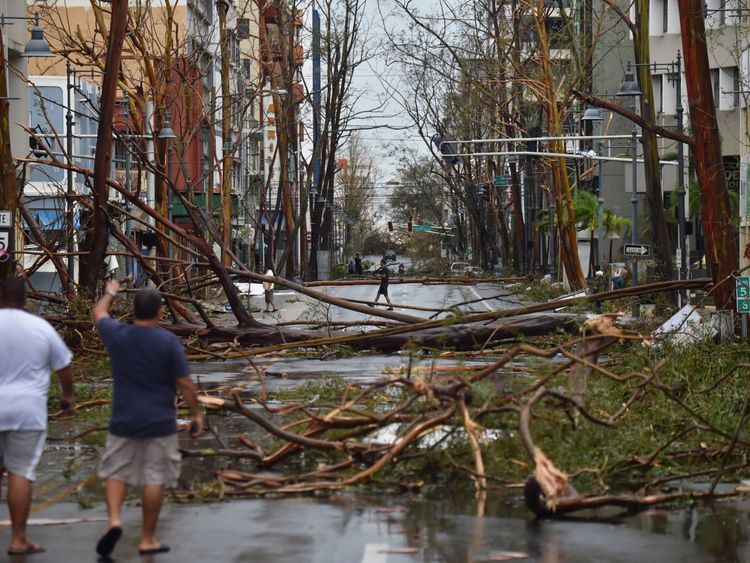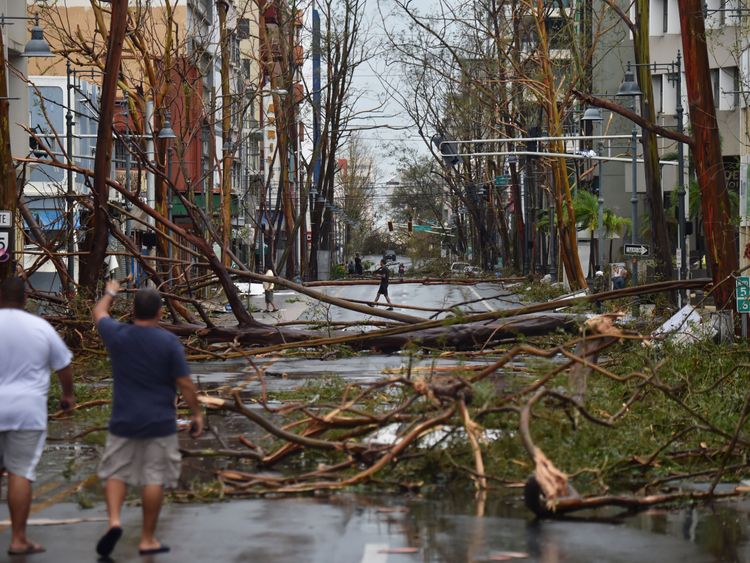 The UK government warned people to stay away from the region.
The Hurricane Centre predicted that a storm surge and large waves will raise water levels by as much as 4ft to 6ft above normal tide levels in parts of the Dominican Republic, and between as much as 9ft and 12ft in the affected parts of the Bahamas and Turks and Caicos.
As Maria moves away from Puerto Rico, the country is forecast to have up to a metre of rain (35ins), leading to flash floods and landslides.
Meanwhile, tourism officials on the US Virgin Islands have told potential visitors to postpone their trips while authorities assess the effects of the hurricane on St Croix.
The islands' tourism department says Maria brought heavy rainfall and flooding to St Croix, and communications throughout the islands, which were also hit by Hurricane Irma, are limited.
Mr Trump declared the US Virgin Islands a major disaster zone, freeing up federal funds for the relief effort.
On the island of Guadeloupe, two people were killed, floodwaters have inundated towns and almost half the population is without power.
The storm also blew over the tiny island of Dominica on Monday, ripping off 95% of roofs and killing at least seven people.
Florida is unlikely to be hit by the full force of Maria. The storm is predicted to roll northwards up the US east coast but not make landfall there. It will, however, cause dangerous swells along the Carolinas and Virginia by the weekend.