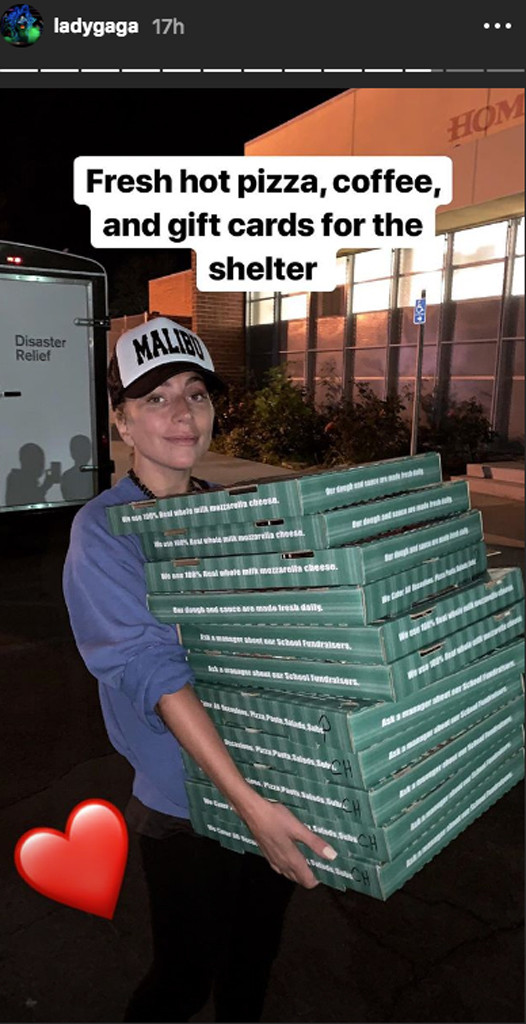 Instagram
Hollywood is doing their part to assist those impacted by the deadly wildfires scorching California. 
In fact, several stars including Miley Cyrus, Gerard Butler, Camille Grammer, Robine Thicke and Neil Young lost their homes in the Woolsey fire that swept through Malibu and the surrounding Los Angeles and Ventura Counties. Other celebrities like Caitlyn Jenner, Jessica Simpson, Orlando Bloom, Alyssa Milano were forced to evacuate as the flames crept dangerously close to their residences. 
As it stands, an estimated 50 fatalities have been reported as a result of the Woolsey fire and Camp fire in Butte County. Neither, in addition to the Hill fire, are completely contained. 
Amidst the destruction, these and many other celebrities have donated their time, energy and finances to the ongoing wildfire relief efforts. Just last night, Lady Gaga paid another visit to a Red Cross shelter with several stacks of pizza boxes, coffee and gift cards for those community members displaced by the fires. 
To see how other A-listers are stepping up to the plate and to find out how you can get involved, keep scrolling. 
Scott Legato/Getty Images for Live Nation
Lady Gaga

After evacuating her Malibu home, the pop singer and A Star Is Born actress lent a helping hand by volunteering multiple times at local evacuation centers. In addition to delivering a heartfelt speech to her fellow evacuees, Gaga brought pizza, coffee and gift cards to those in need. 
Rich Polk/Getty Images for Disney
Miley Cyrus & Liam Hemsworth

The couple pledged $500,000 to the Woolsey fire relief efforts in light of losing their beloved Malibu residence. "Their community and state are very special to them and they want to give back to the place that has created so many beautiful memories for themselves and others," Miley's rep shared in a statement to E! News. 
Christopher Polk/E! Entertainment/NBCU Photo Bank via Getty Images
Kardashian-Jenner Family

As the deadly flames in Calabasas threatened the E! reality stars' mansions, Kim Kardashian, Khloe Kardashian, Kourtney Kardashian, Kendall Jenner and Kris Jenner shared an emotional tribute to the firefighters and first responders onstage at the People's Choice Awards. Khloe also documented delivering supplies to authorities in her hometown on social media. 
Goldenvoice
Guy Fieri

The Food Network star helped lift spirits in Butte County by serving up a home-cooked meal to the firefighters and law enforcement fighting the Northern California blaze. 
Michael Rozman/Warner Bros.
Ellen DeGeneres

The talk show host joined forces with Walmart to donate $100,000 to the Los Angeles Fire Department Foundation. 
Andrew Lipovsky/NBC
Rob Lowe

The Parks and Recreation star's young sons, Matt and John Lowe, donated their time and energy to the cause by assisting in evacuations. 
Theo Kingma/REX/Shutterstock
Sandra Bullock

In a heartfelt Facebook post, the actress announced her decision to donate $100,000 to the Humane Society of Ventura County to help provide care for animals evacuated in the California wildfires.
Chris Hyde/Getty Images
Dave Grohl

The Foo Fighter rocker showed his appreciation by delivering meals from his very own Backbeat Barbecue to hungry firefighters. 
Stay pop cultured with E! News weekdays at 12PM, 7PM & 11PM