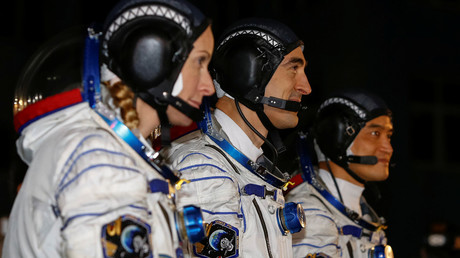 The three international crew members of Expedition 49 have safely landed in Kazakhstan, concluding their 115-day mission in orbit.
The maiden spaceflight of the latest Soyuz modification was completed successfully, as MS-01 spacecraft's landing module touched down at 03:58 GMT 148km (92 miles) from the town of Zhezkazgan on the Kazakhstan steppe.
Russian Soyuz commander Anatoly Ivanishin, Japanese flight engineer Takuya Onishi and NASA astronaut Kate Rubins boarded the Soyuz MS-01 spacecraft on Friday evening at 21:15 GMT and undocked from the International Space Station (ISS) early on Saturday.
Ivanishin, Onishi and Rubins arrived at the space station July 9, two days after their Soyuz rocket blasted off from the Baikonur Cosmodrome.
The trio spent 115 busy days in orbit and conducted the very first DNA sequencing experiment in space. Dragon, Cygnus and Progress supply ships visited ISS during their mission.
Expedition 49 commander Ivanishin formally handed over command of the ISS to NASA astronaut Shane Kimbrough on Friday.
ISS Expedition 50 has officially begun upon the Soyuz undocking from the space station. The other three members will join Expedition 50 on November 17 on board the Soyuz MS-03 spacecraft.
The Soyuz MS series spacecraft features more efficient solar panels, modified layout of controls, new Kurs NA approach and docking system, GLONASS/GPS and Cospas-Sarsat satellite systems for easier location of the landing module upon landing and other upgrades.


30 October 2016 | 4:00 am